"New Non-Surgical Liquid Face Lift Eliminates Wrinkles in 27 Minutes Flat
. . . Or It's FREE!"
New Breakthrough in Medical Science! Discover the Non-Surgical Liquid Face Lift that Exfoliates, Lifts and Tightens . . . at the Cellular Level! Remove Years from Your Face in Just 27 Minutes!
The Truth Is In The Numbers: 97.3% of Ageless Elements™ Liquid Face Lift and Oxidizing Therapy Users Report Positive Results, more than 94% with the first application. Ageless Elements™ Liquid Face Lift and Oxidizing Therapy Is The NEW Gold Standard Used By Hollywood. That's PROOF POSITIVE! Ageless Elements™ Liquid Face Lift and Oxidizing Therapy Works!
---
Dear Friend,

y name is Rebecca Taylor; Woman's Health Advisor for MicroNutra Health™. It's no coincidence that you're here. I know how much you wish you could wave a magic wand and have the smooth and beautiful skin that you had in your youth. Just like you I have made that same wish.
If you would like to look as much as 20 years younger . . . with no pain or side effects, then this will be the most important message you will ever read! I searched for the perfect anti-aging solution for years. Like you, I wanted a younger appearance.
I can't tell you enough, how glad I am that you found this website so I can share this discovery with you!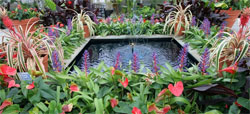 Our new non-surgical all natural liquid face lift uses something very much like a "magician's trick" to take your skin back in time. It's called Ageless Elements™ Liquid Face Lift and Oxidizing Therapy. Before I tell you the secret of how it works, read on to discover your fountain of youth.

Ageless Elements™ Liquid Face Lift and Oxidizing Therapy is the ultimate anti-aging wrinkle solution. It can help you look younger and more beautiful by reducing the appearance of wrinkles, fine lines and other signs of aging.
This revolutionary formula utilizes the most powerful botanical extracts available in the world! These active ingredients firm, hydrate and tighten facial skin and repair the appearance of fine lines.



Imagine the Possibilities
Maybe you're frustrated because the costly creams you use every night still leave fine lines on your cheeks every morning. Have you ever tugged up on the skin over your cheekbones to see what a liquid face lift might do for you?
With Ageless Elements™ Liquid Face Lift and Oxidizing Therapy you will . . .
Look years younger!
Regain confidence!
Be envied!
Feel sexy!
Have more opportunities!
Turn Back the Hands of Time!
Aging is a natural occurrence that takes place over time . . . you didn't do anything to cause the aging process. But with just 27 minutes and this amazing solution, you will regain your youth and beauty.
Ageless Elements™ Liquid Face Lift and Oxidizing Therapy works! I have experienced the transformation firsthand and so have thousands of our customers. We have achieved stunning results in reducing facial wrinkles with this non-surgical all natural Liquid Face Lift. By using Ageless Elements™ regularly, you can continue to keep your complexion looking naturally smooth, youthful and glowing.
Wrinkle Facts
Aging occurs at different rates from one person to the next. Trying to stop or repair the aging process can be difficult. You need to know what you're dealing with so you can effectively regain control of the aging process.
Remember, facial wrinkles are the by product of:
Gravity
Sunlight
Dehydration
Fiber Damage
The aging process is slow, relentless and, until now, irreversible.
Today more women and men are taking a natural approach to rejuvenating youthful, radiant skin by using Ageless Elements™ Liquid Face Lift. By firming and lifting your facial muscles, you add youth and beauty to your face. Unlike cosmetic surgery, Ageless Elements™ Liquid Face Lift provides a natural way to enhance beauty that you can do yourself, safely, affordably and in the privacy of your own home.
Systematically Reduce Aging . . .
Consider this . . . we subject our skin to the most intensive abuse with: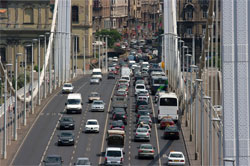 Sun
Stress
Loss of sleep
Pore-clogging cosmetics
Exposure to pollutants
Unhealthy eating habits
We rarely put back what we've taken away. Creams and lotions claim to help, but mostly they mask the effects of aging, rather than correct the underlying the effects of aging.
Many of us have fitness routines to keep our bodies firm, healthy and youthful. Shouldn't we use a natural, revitalizing regime for our complexions, too?
The Ultimate Solution . . .
Imagine yourself looking wrinkle free, sexy and youthful. Imagine how you'll feel if you don't have to worry about fine lines, sagging jowls and puffy eyes ever again!
Ageless Elements™ Liquid Face Lift and Oxidizing Therapy is 97.3% effective at eliminating wrinkles for a more beautiful, youthful you! That's a strong claim, but we have thousands of success cases and a "Eliminate Wrinkles in 27 Minutes Flat - or It's FREE!" guarantee to back it up.
Imagine making your wrinkles invisible, immediately!
Ageless Elements™ Liquid Face Lift and Oxidizing Therapy consist of all-natural botanical ingredients that are essential to its safety and effectiveness. Ageless Elements™ contains NO dangerous chemicals. You must agree, eliminating risky side effects from injections and surgical procedures are your first priority.
I know you're wondering how this amazing product works. Rest assured, this superior solution is better, safer, and more effective for rejuvenating aging skin without the pain or expense of surgical procedures. Yes, there really is a product that will do everything you want it to!
Proof Positive . . .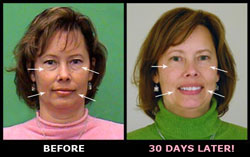 You know there's always one in every crowd that says, Well, if it's so good, PROVE IT! That's just what we've done! We took the time to scientifically query past users of Ageless Elements™ Liquid Face Lift and Oxidizing Therapy about their results. This is what we found to be true:
97.3% of all people who used Ageless Elements Liquid Face Lift™ and Oxidizing Therapy as directed reported positives result.
94% said that they were happy with their results after the first application.
A double-blind, placebo-controlled, independent clinical study demonstrated that the ingredients in Ageless Elements™ Liquid Face Lift and Oxidizing Therapy work.
Clinical Study Results
Ninety healthy females, varying in age from 25-50 years, with wrinkles, sagging jowls, puffy eyes and/or dry skin were selected for this study. The subjects applied Ageless Elements™ Liquid Face Lift and Oxidizing Therapy to the right side of their face and a placebo serum to the left side. After the first treatment, clinicians found an average improvement in skin elasticity of 34.72%.
Figure1. You can clearly understand these impressive results once you've learned how Ageless Elements™ Liquid Face Lift and Oxidizing Therapy reduces wrinkles, fine lines, puffiness and crows feet at the deepest epidermal level . . . Read on to learn more.
As you can see, the percentage of reduced facial wrinkles, fine lines, and puffiness is dramatic!
Improvement in elasticity is directly related to improvements in the dermal architecture, i.e. increased collagen synthesis and overall improvement in the health of the dermis. This proves that Ageless Elements™ Liquid Face Lift and Oxidizing Therapy has a direct effect on the functional cells of the dermis, improving the elasticity of the skin making you look and feel years younger!
Ageless Elements™ Liquid Face Lift and Oxidizing Therapy is one of the few products that works without irritation. Yes, our revolutionary product is superior to our competitors!
How it Works
Aging is caused by a variety of factors. Ageless Elements™ Liquid Face Lift and Oxidizing Therapy, is the ONLY solution that addresses all factors while reversing your aging skin quickly and completely!
If You're Treating Just One Cause of Facial Aging, You're Only Part of the Way There!
It's better than having your own team of day-spa aestheticians! Ageless Elements™ Liquid Face Lift and Oxidizing Therapy is the ONLY SOLUTION that massages away your wrinkles, fine lines, puffiness and crows feet at the cellular level from the inside out, addressing the ROOT CAUSE of facial aging symptoms from every direction.
This One Potent Formula Promotes Healthy Skin Rejuvenation!
You only need 27 minutes and this amazing formula to reduce the appearance of unsightly lines and sagging jowls. This remarkable product creates a more youthful appearance.
Simply put, while most lotions and creams claim to create more youthful appearance, they do not nourish your skin like Ageless Elements™ Liquid Face Lift and Oxidizing Therapy.
AGELESS ELEMENTS™ LIQUID FACE LIFT AND OXIDIZING THERAPY . . .
Reduces the appearance of Sagging Skin, Lines and Wrinkles WITHOUT pain, high costs, or dangerous chemical ingredients.
Clinically Proven Results
Works in 27 Minutes.
Diminishes Frown Lines, Laugh Lines, Under Eye Wrinkles and Crow's Feet.
Hydrates Skin by Locking in Moisture.
Hypoallergenic - Safe and Effective for All Skin Types.
90 Day Risk Free Trial.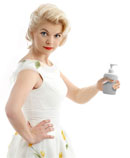 This isn't just your mother's moisturizer! Ageless Elements™ Liquid Face Lift and Oxidizing Therapy contain special enzymes that promote collagen growth and stimulate the production of acetylcholine, the chemical used by the body to activate muscular activity.
By fortifying the collagen matrix in your skin you tone and firm the muscles of your face, reducing fine lines and wrinkles with the very first application. The color and tone of your skin will improve as your circulation and cellular turnover rate increases to keep your skin looking and feeling younger and revitalized.
As it dries, this revolutionary product creates an isometric pressure between the masque and the muscles of the face and neck to restore firmness to sagging skin and muscles.
What You Should Know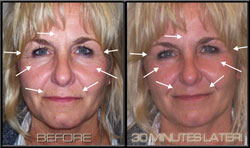 You need to know that Ageless Elements™ Liquid Face Lift and Oxidizing Therapy is guaranteed to work for you because it is a completely unique approach to help reduce the aging appearance of your skin.
The combination of ingredients has been developed with the use of numerous scientifically blended ingredients. By working closely with leading skin care formulators, we created this revolutionary, one step, "pre-mixed" Ageless Elements™ Liquid Face Lift and Oxidizing Therapy! This hypoallergenic masque is made up of natural active ingredients selected for their soothing and revitalizing effects on the skin.
You won't find anything like Ageless Elements™ Liquid Face Lift and Oxidizing Therapy available to the public anywhere else in the world.
What our customers are saying . . .
You too can expect similar results.
Submitted by: Linda Richards
From: Southbend, Indiana
On: April 1, 2007

I want to thank you so much for developing this product. I'm a 46 year old mother of three. My youngest just started kindergarten this year. All of the other moms just seemed so much younger looking! I never thought of myself as old until I compared my face to theirs. Clearly they haven't spent 15 years parenting yet! I used the Face Lift Product and was amazed with the results! I look 20 years younger! The wrinkles around my eyes are gone! My husband did a double take when he came home from work that day. I love the Face Lift!
Submitted by: Susan Stark
From: New York, New York
On: May 12, 2007

I overheard the receptionist talking about this product when I was waiting in line at the dentist office two weeks ago. It sounded too good to be true, but with the money-back guarantee I figured, what do I have to lose? It was the best money I have spent in a long time. For the past ten years I've been so self-conscious of the skin on my neck. It was just saggy and loose. I was so happy every autumn when it got cool enough to wear turtlenecks again - then at least I could hide my neck. I tried the Liquid Face Lift immediately after I received it in the mail. I couldn't believe my eyes. In just one application I could see amazing results. My sisters have been commenting on how I'm looking younger lately. I'm not sure whether I should tell them, or keep the secret for myself . . . Thanks for changing my life.
With a great product like Ageless Elements™ Liquid Face Lift and Oxidizing Therapy the news travels fast . . . as seen on these great sites.

More Proof is in the Ingredients
You've heard us say the product works. You've read the testimonials from satisfied customers. You've even seen the results of our internal polling and the results of an independent clinical study. If you're still not 100% convinced that Ageless Elements Face Lift™ can help you reduce the effects of aging, then this section is for you.
Stabilized Aloe Vera Gel
Aloe Vera has been used for centuries for skin care. Aloe Vera Gel has produced startling results in replenishing lost moisture from the skin. Aloe Vera is also well known for its carrying benefits. When used as a base ingredient, Aloe Vera helps to deliver other nutrients into the skin, helping to increase effectiveness and performance.
Carrageenan
This is a gel-forming polysaccharide found in the Red Algae Seaweed known as "Irish Moss". It is a soothing, natural emulsifier.
Silk Amino Acids
Amino acids are the building blocks of protein and are vital components of skin, hair, muscle tissues, body organs, blood cells, enzymes and various hormones. Some components of our blend act as antioxidants and facilitate the removal of heavy metals from the body and help fight environmental factors that increase the signs of aging. Silk Amino Acids are important in supporting the skin matrix (collagen and elastin) and help to fortify and protect the skin.
Acacia Gum
Acacia Gum works without the irritation and photosensitization (sun sensitivity) commonly associated with alpha hydroxy acids, Retin-A, and Retinol, which are the most prevalent anti-aging ingredients on the market today. This makes Acacia Gum truly a revolutionary ingredient because it provides extraordinary anti-aging effects without the threat of irritation.
Tea-Lauryl Sulfate
This extract is bioflavonoid-rich and potent. It is used primarily for fighting free radicals.
There is no arguing the effectiveness of each of these individual ingredients. The secret success of Ageless Elements™ Liquid Face Lift and Oxidizing Therapy comes from the proprietary blending at the molecular level of all these ingredients to attack the root cause of the natural aging proccess from every direction. Folks, I can't stress this part enough.
Our scientists have discovered at the molecular level how to maximize potency and absorption utilizing our proprietary 12 step pharmaceutical-grade blending and extraction process, called NanoCellular Technology™. This is what makes our products superior. Don't trust your health to anything less.
FDA Approved Manufacturing Facilities
Every product manufactured for MicroNutra Health™ is done so in an FDA approved facility under "Good Manufacturing Practices" guidelines. These guidelines ensure that every single capsule and pill sold by MicroNutra Health™ is of the highest quality and purest form. We won't trust your health to anything less, and neither should you!

Our Promise to You

I know that Ageless Elements™ Liquid Face-Lift works. I see it every day in customer re-orders and testimonials. I am so confident that Ageless Elements™ Face-Lift will work for you too that we offer the best guarantee in the industry.

We guarantee you'll be absolutely thrilled
or we'll reverse your payment like it never happened...
FOR 90 DAYS!
(Literally right up to the last day of the 3rd month, period!)
I can promise you that with Ageless Elements™ Liquid Face Lift and Oxidizing Therapy You will be able to Enjoy . . .
Wearing your favorite outfits that flatter your neck and face good bye year-round turtlenecks!
Leaving the house without layers of make-up.
Flaunting yourself, instead of hiding your appearance from your partner.
A new found confidence.
Smiling, knowing how fabulous you look!
This could be your last chance to really do something about your fine lines, age spots, wrinkles and sagging jowls.
Do it for yourself . . .
Your Health and Beauty is Priceless
A 30-day supply of Ageless Elements™ Face-Lift costs less than $2.50 per day at the single bottle price. Most of our customers opt to save even more money by taking advantage of our multi-bottle price break, which allows a significant savings of up to 50%.
Either way it's all GUARANTEED!
Compared to everything you stand to lose if you don't make a change right now, $2.50 is just a drop in the bucket. What else can you do for $2.50 that will so greatly affect the quality of your life, your career, your family and your home?
Don't hesitate, order now . . .

---
Frequently Asked Questions
Q: How soon after starting on Ageless Elements™ Liquid Face Lift and Oxidizing Therapy can I expect to see results?
A: You will experience a decrease in wrinkles and lines after the first application. In 4-6 weeks, the improvement will be significant.
Buy 2 Get 1 FREE!
Most Popular Option
Buy 3 Get 2 FREE!
Best Value Option