Discover How You Can

STOP


Your Pet's Chewing, Scratching,
Spraying and Disobedience
in 30 Days or less
. . .Or

it's FREE!


New Breakthrough In Veterinarian Science Completely Eliminates Your Pet's Destructive Behavior And Maximizes Your Pet Training Results!
The Truth Is In The Numbers: 100% of Anivive™ Customers Report Positive Results, Over 90% Within The First 48 Hours And The Fact That Anivive™ Is The NEW Golden Standard Used By Many Animal Trainers Is PROOF POSITIVE Anivive™ Works!
Dear Fellow Pet Lover,

y name is Jennifer Morrissey, and I am a Veterinarian Technician here at MicroNutra Health™. I already know why you are here, because you cherish your pet. For years I had struggled with my own personal battles with my pet's health. I did everything the 'experts' wanted me to do but sadly, he was not getting better. It just wasn't working.
That's when I decided to take personal responsibility for my pet's behavior. No one cares about your pet's quality of life more than you. Follow me here and I will share with you some important facts that can change your furry friend's demeanor for the better for the rest of their life!.
Training your pet can be an exhausting and even an expensive endeavor! Behavior issues in cats and dogs can manifest themselves in different ways: excessive barking, chewing or scratching furniture, inappropriate urination, aggressiveness, digging, and spraying are just some of the ways animals can act out. A destructive or aggressive pet can be re-educated as to what is appropriate and acceptable behavior.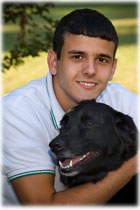 You need to use an integrated approach.
I understand your frustration with obedience training, and I am here to tell you it's not your fault. Modern breeding methods have increased the risk of a cerebral chemical imbalance. This imbalance hinders your pet's ability to think clearly. Pets involved in a training program, either professional or at home, expend a lot of mental energy focusing on the tasks they must learn.
This causes hyperactivity, confusion and increased aggression; A pet may attack others and even turn on its owner! Sadly, many pet owners have had to go to an extreme measure and euthanize their beloved pet.
You may not know it, but the medications normally prescribed to treat behavioral problems in animals carry potentially disastrous side effects. Your pet could experience vomiting, dizziness, loss of appetite, seizures, or death!
The good news is, there is now a safe and clinically proven effective solution to your pet's cerebral chemical imbalance and stop their disobedience!
The Natural Solution is Anivive™!

Imagine yourself free from worrying about embarrassing and frustrating effects of your pet's destructive behavior. Imagine how you would feel if you didn't have to worry about it ever again or have to worry about all the negative side effects of any pharmaceutical drugs.
Anivive™ has been shown in clinical studies to be 99% effective for animal behavior. That's a strong claim, but we have thousands of success cases and a 90 day iron clad money back guarantee, no questions asked, to back it up.
You have nothing to lose but everything to gain.
Anivive™ consists of all-natural ingredients that are essential in making it safe and effective. It contains no chemically generated compounds, fillers, or artificial additives and unlike pharmaceutical drugs, does not require a prescription and has zero negative side effects.
Anivive™ is another remarkable product from the MicroNutra Health™ scientific research team, who continue to provide quality veterinarian health solutions in the world, for over 30 years now!
Don't just take my word for it. We have scientific proof that Anivive™ really does work.
Proof Anivive™ Works!
You know there's always one in every crowd that says, Oh yeah, well if it's so good then PROVE IT! Well, for all the doubters, guess what? That's just what we've done! We took the time to scientifically query past customers of Anivive™ about their results, and this is what we found to be true:
98.4% said their pets showed positive results when given Anivive™ as directed.
95.6% said their pet's destructive behavior and disobedience diminished significantly.
We have even taken it one step further with clinical studies on our product ingredients. Clinical studies conducted in controlled environments have proven the efficacy of our product in the reduction and elimination of domestic animal destructive behavior and disobedience.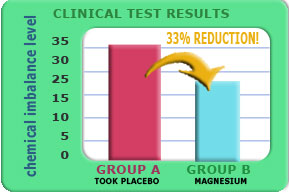 Magnesium treatment is known to be effective in the treatment of major depression that result from intraneuronal magnesium deficits. These deficits may be induced by stress hormones, excessive dietary calcium, as well as dietary deficiencies of magnesium. Case histories show rapid recovery (less than 7 days) from major depression using 125-300 mg of magnesium (as glycinate and taurinate) with each meal and at bedtime. Magnesium was found usually effective for treatment of depression, anxiety, and stress in general use.

-George Eby Research, 14909-C Fitzhugh Road, Austin, TX 78736, USA.
You can clearly understand these impressive results once
you've learned how Anivive™ will reverse your pet's condition.
Read on to learn more.
How Anivive™ Works!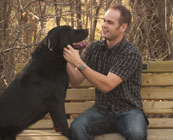 Anivive™ works to remedy the cerebral chemical imbalance that is the primary cause of improper behavior.
Anivive™ is the ONLY natural solution that reverses this problem quickly and completely, ONCE AND FOR ALL!
If You're Treating Just One of the Causes of Your Pet's Disobedience You're Only Half Way There!
Like a military brigade, Anivive™ is the ONLY SOLUTION that attacks behavior issues from the inside out and attacks the ROOT CAUSE from every direction.
In Just One Potent Formula, Anivive™ . . .



Boosts Cell Repair to Brain Tissue:
Anivive™ provides tonic benefits for the entire nervous system, it helps to soothe and calm pets while also reducing excitability and hyperactivity.



Eliminates Toxins From The Body
Anivive™ promotes cell detoxification. Cells must be detoxified to maintain proper neurological function.The properties in Anivive™ adhere to the pollutants, which catalyzes their breakdown. This allows the body to completely eliminate all toxins.



Promotes Neurological Communication
Anivive™ stabilizes levels of neurotransmitters responsible for mood, sleep, concentration, anxiety, and general feelings of well being.


72% of our customers come from word of mouth referrals or refill orders. Here are some of their life-changing testimonials.

What Our Customers Are Saying . . .
You too can expect similar results.

Submitted by:
Sue Cornelisse
From:
Sedona, Arizona
On:
March 18, 2006
We were babysitting our son's Weimereiner while he was traveling on business. Bosco is a big happy dog, except when his ears are hurting him. I called the vet and was told it sounded like an ear infection. It was the weekend so I decided to try the Anivive that my girlfriend brought over to him. I added it to his food and also dropped a bit in the sore ear with an eye dropper. By Monday, he seemed fine so we didn't even have to bring him to the vet. Anivive works for so much more!

Submitted by:
Sandra Langdon
From:
Elyria, Ohio
On:
May 29, 2006
Our Australian shepherd mix, Ladybird, is a quiet, well behaved sweetheart except at night when she is prone to anxiety attacks. We adopted her full grown from a shelter so I imagine she may have been abused. At night I cannot keep her confined as she will bloody herself trying to get out. So she stands over me on the bed and pants in my face. We tried pet anti-anxiety drugs but they had little effect. My sister gave us some Anivive and Ladybird has calmed down considerably. It sure feels good to sleep through the night without a dog emergency.

Submitted by:
Becky Haines
From:
Boulder, Colorado
On:
June 28, 2006
I have a 5 year old Jack Russell Terrier named Kira. When I would leave for work everyday I would hear her inside barking uncontrollably and when I got home anything, I left laying around would be torn up. My vet told me it was separation anxiety. I was really afraid I was going to have to get rid of her. As a last resort I went searching online to find help. That's when I found your site! I have been giving Kira Anivive and she seems much calmer. She no longer barks when I leave, and I don't have to worry about coming home to a disaster area! I would recommend your product to anyone.
With a great product like Anivive™ the news travels fast...
As seen on these great sites.



Anivive™'s Organic Mineral Complex!
More Proof is in the Ingredients
You've heard us say the product works. You've read the testimonials from satisfied customers. You've even seen the results of our internal polling and the results of an independent clinical study. If you're still not 100% convinced that Anivive™ can help improve your pet's behavior, then this section is for you.
Below is a short explanation of some key ingredients in Anivive™ and its proven benefit (often over centuries of use) in safely reducing your pet's disobedience, destructive tendencies by treating their chemical imbalance.
| | |
| --- | --- |
| | Magnesium, Deficiency of magnesium can result in depressive symptoms, along with confusion, agitation, anxiety, and hallucinations, as well as a variety of physical problems. Most diets do not include enough magnesium. Stress also contributes to magnesium depletion. |
| | Manganese, This metallic element is needed for proper use of the B-complex vitamins and vitamin C. Since it also plays a role in amino-acid formation, a deficiency may contribute to depression that stem from low levels of the neurotransmitters serotonin and nor epinephrine. Manganese also helps stabilize blood sugar and prevent hypoglycemic mood swings. |
| | Iron, Depression is often a symptom of chronic iron deficiency. Other symptoms include general weakness, listlessness, exhaustion, lack of appetite, and headaches. |
Ionic Elements: Iron, Lithium, Manganese, Magnesium, Phosphorus, Potassium, Silver, Sulfur, Titanium, and Zinc


Trace Elements: Erbium, Europium, Fluoride, Gadolinium, Gallium, Germanium, Gold, Hafnium, Niobium, Osmium, Palladium, and Platinum
There is no arguing the effectiveness of each of these individual ingredients. The secret of Anivive™ success comes from the proprietary blending at the molecular level of all these ingredients to attack the root cause of destructive and disobedient behavior from every direction.
Folks, I can't stress this part enough.
Our scientists have discovered at the molecular level how to maximize potency and absorption utilizing our patent-pending 12 step pharmaceutical-grade blending and extraction process. This process is called Hydro-Molecular Technology™. This is what makes our products superior. Don't trust your health to anything less.
FDA Approved Manufacturing!
Every product manufactured for MicroNutra Health™ is done so in an FDA approved facility under "Good Manufacturing Practices" guidelines. These guidelines assure that every ounce of product sold by MicroNutra Health™ is of the highest quality and purest form. We won't trust your pet's health to anything less, and neither should you!

I've shown you how the product works, given you positive testimonials from happy anivive™ customers, shown you the results from independent clinical tests, and broken down some of the essential ingredients to help you better understand how they work individually.
The only thing left is for you to decide to take PERSONAL RESPONSIBILITY for your pet's health because no one else can. 'Health is a Choice' that you must make on your own.
I hope I've presented the information above clearly enough that you too now feel comfortable in making the educated decision for good health. The only thing left to do, is present you with our 100% risk-free money back guarantee.
---
MicroNutra Health™ Iron Clad Guarantee

---
I know that Anivive™ works. I see it every day in customer re-orders and testimonials. I am so confident that Anivive™ will work for you too that I am offering you the best guarantee in the industry!
I guarantee that you'll be absolutely thrilled

or we'll reverse your payment like it never happened...

FOR A FULL 90 DAYS!
(Literally right up to the 90th day, period!)
It's Our Promise that Anivive™ will . . .

Reduce hyperactivity and restlessness in pets
Control aggressive behavior, biting and scratching
Prevent problem behavior such as excessive jumping, barking, meowing, running and digging
Reduce excessive excitability
Lower excessive libido and reduce inappropriate sexual behavior towards people and other pets
Your Pet's Health is Priceless
A 30-day supply of Anivive™ cost less than $1.25 per day at the single bottle price. Most of our customers opt to save even more money by taking advantage of our multi-bottle price discount, which allows a significant savings of up to 50%
Either way, its GUARANTEED!
Compared to everything you stand to lose if you don't make a change right now, $1.25 is just a drop in the bucket. What else can you do for $1.25 that will so greatly affect the quality of your pet's life and the family that loves your pet?
Frequently Asked Questions!
Q: How soon after taking Anivive™ can I expect to see results?
A: Customers who have started their pets on Anivive™, have experienced a noticeable difference in their pet's activity within 1 to 2 weeks and some as quickly as 2 days.