Eliminate Your Pet's
Fleas, Ticks, or Lice
in 10 Minutes or less
. . .Or

it's FREE!


New Breakthrough In Veterinarian Science Literally Reverses Your Pet's Parasite Infestation at the Molecular Level!
The Truth Is In The Numbers: 99.9% of Defendex™ Customers Report Positive Results, Over 90% Within The First Few Minutes And The Fact That Defendex™ Is The NEW Golden Standard Used By Many Animal Trainers Is PROOF POSITIVE Defendex™ Works!
Dear Fellow Pet Lover,

y name is Jennifer Morrissey, and I am a Veterinarian Technician here at MicroNutra Health™. It's by no accident that you are here. You love your pet and would do anything to end the misery your pet is going through from an infestation of blood sucking parasites. In one day a single flea, tick, or lice can bite your pet more than 400 times.
Parasites can consume more than their body weight of your pets blood. Bites from these insects may pose a severe threat to your pet's health. They can cause skin irritation, anemia, and transfer several different dangerous diseases. A pet can even get tapeworm if it eats a parasite that has one.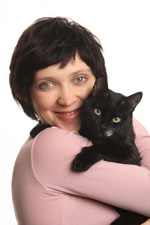 No one cares about your pet's health more than you. Follow me here and I will share with you some important facts that can change your furry friend's health for the better for the rest of their lives!
I understand what you are going through, I can't tell you how many times I have seen pet owners desperate attempts to alleviate their companions distress with toxic chemical shampoo's, bombs, dips, or harmful prescribed medications only to put their pet's health in greater jeopardy!
You may not know it, but a lot of remedies for fleas, ticks, and lice carry potentially disastrous side effects. Your pet could experience aggressiveness, organ damage, blood disorders vomiting, seizures, and even death!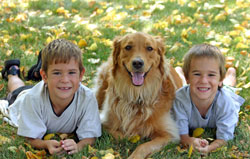 You need to make sure your furry friend, no matter what their age, has the most advanced and proven solution available. That's the only way they will live as long as possible. In turn, you will receive boundless enjoyment and unconditional love every step of the way no matter what his age!
The good news is, there is now a safe and clinically proven effective solution to your pet's flea, tick, or lice infestation!
The Natural Solution is Defendex™!

Imagine your pet free from the constant scratching, biting or gnawing. Imagine how you would feel if you made the right decision to improve your pet's health without risking his quality of life with all of the negative side effects of other remedies on the market.
Defendex™ is a new generation of parasite control specifically formulated to eliminate fleas, ticks, and lice on contact. It is the most superior non-toxic remedy on the market today!
Defendex™ has been shown in clinical studies to be 99.9% effective for relief of pet infestation. That's a strong claim, but we have thousands of success cases and a 90-day Money Back Guarantee.
You have nothing to lose but everything to gain.
Defendex™ consists of all-natural ingredients that are essential in making it safe and effective. It contains no chemically generated compounds, fillers, or artificial additives and unlike pharmaceutical drugs, does not require a prescription and has zero negative side effects.
Defendex™ is another remarkable product from the MicroNutra Health™ scientific research team, who continue to provide quality veterinarian health solutions in the world, for more than 30 years now!
Defendex™ has patented fast-acting enzymes that literally dissolve the "super-glue like substance" that holds the parasite eggs on your pet's hair shafts.
Defendex™ also has powerful ion charged surfactants that "instantly penetrates" the parasite's tough outer body armor.
Defendex™ is a "patented process" that has more than 75 claims in regards to the proprietary means of achieving a safe, non-toxic solution for stopping fleas, ticks, and lice on contact.
Defendex™ is a scientifically blended formulation that utilizes specially charged water and natural dissolving enzymes that permanently eradicates the parasite.
Defendex™ Is Truly the Final Solution!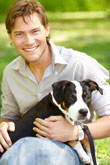 Defendex™ is the ONLY natural solution that ends your pets suffering quickly and completely, ONCE AND FOR ALL!
Defendex™ is a completely safe and natural way to totally eradicate dangerous fleas, ticks, lice and their nits (eggs). Defendex™ has been shown to be over 100% more effective than "Over-The-Counter" and prescription chemical treatments combined.
"Safe enough for the most sensitive pet and effective enough to make the parasites and their eggs vanish forever."
Defendex™ easily rids your pet of awful parasites, leaving nothing behind but your pet's relief and your peace of mind.
Defendex™ is the worlds most effective "biologically safe" flea, tick, and lice solution EVER!
No Nit Picking, No Mess, No Chemicals!
Rid Your Entire Home
To completely eliminate fleas, ticks, and lice from your pet and home with Defendex™, you can also:
Use Defendex™ to eliminate lice and their eggs on mattresses, furniture, car interiors, and other non-washable items. Simply mix 1-2 oz of Defendex™ per gallon of water and spray suspected areas.
Wash bed linens, clothing, and other washable items in hot water and add 1-2 oz of Defendex™ per wash load. Bed linen, pillow cases, towels and clothing should all be washed in water that is at least 50 degrees Celsius (122 degrees Fahrenheit) and dried in a hot dryer for at least 20 minutes to prevent re-infestation.
How Defendex™ Works!
In Just One Potent Formula, Defendex™ . . .



Eliminates Lice, Fleas, Ticks and Their Eggs:
Most treatments on the market only address the current parasite infestation while leaving the eggs (nits) behind. Defendex™ Eradicates all traces of the infestation and puts your pet's suffering at ease.



Cleans and Condition the Skin and Coat.
The groundbreaking formulation of Defendex™ cleans, deodorizes, and conditions your pet's skin and coat restoring its natural softness and luster. Defendex™ leaves your pet smelling fresh without harmful fragrances or toxic substances.



Prevents Future Infestations.
The natural ingredients in Defendex™ penetrate the hair follicles and act as a natural barrier to fend off future flea, tick, and lice attacks safe- guarding your pet from additional harm for up to a week!


72% of our customers come from word of mouth referrals or refill orders. Here are some of their life-changing testimonials.

What Our Customers Are Saying . . .
You too can expect similar results.

Submitted by:
Nathan Scott
From:
Clarksville, Tennessee
On:
June 10, 2007
I have a retriever named Max. Four months ago when Max went for his yearly check up, the vet told me he had a bad case of fleas and tics and suggested I take him to get a flea dip. Instead I went online and purchased your product Defendex. I had Defendex sent overnight mail so I could treat his condition immediately. After 1 treatment, his fleas and tics appeared to be gone. I took him back to the vet a week later and the vet could not believe there was not a single flea or tic left on Max. Since, then I have been using Defendex once a month in order to prevent Max from getting fleas and tics again. I have not seen ONE flea. . . I don't even remember what a flea looks like . . . It really is the #1 product on the market.

Submitted by:
George Heller
From:
Escondido, California
On:
June 1, 2007
Hello my name is George H. and I have a 15 year old Labrador named Lady and she had a bad bout with a flea infection and I thought I was helping her when I tried other flea shampoos. I figured it was safe. Within an hour of using the stuff Lady started whining and collapsed to the floor. I immediately called the vet and he had me bring her in. She shook like a leaf and seemed to be in a lot of pain. My vet said most flea shampoos are insecticides and that it must have dehydrated her and her kidneys were at risk of failing. It was my vet that told me about Defendex because he uses it as a safe way to kill ticks. Well I had the right idea, just the wrong product. Lady recovered and I learned my lesson.I use it to keep Lady flea and tick free. Lady says thanks and so do I.
With a great product like Defendex™ the news travels fast...
As seen on these great sites.



Defendex™'s Organic Mineral Complex!
Below is a short explanation of some key ingredients in Defendex™ and its proven benefit (often over centuries of use) in safely eliminating your pet's parasite infestation.
Anionic/Nonionic Surfactant Blend - wash which safely repels and smothers the parasite, loosening the nits from the hair shaft, cleansing the skin and helping the body to resist secondary infection.
Peppermint Oil - most powerful properties is its ability to ward off and repel parasites.
Enzymes break down the exoskeleton of the parasite, causing it to perish.
Defendex™ is . . .
Nontoxic - Biodegradable - pH Balanced - Hypoallergenic
There is no arguing the effectiveness of each of these individual ingredients. The secret of Defendex™ success is a scientifically blended formulation that utilizes specially charged water and natural dissolving enzymes that attack the root cause of your pet's misery from every direction.
Folks, I can't stress this part enough.
Our scientists have discovered at the molecular level how to maximize potency and absorption utilizing our patent-pending 12 step pharmaceutical-grade blending and extraction process. This process is called Hydro-Molecular Technology™. This is what makes our products superior. Don't trust your pet's health to anything less.
FDA Approved Manufacturing!
Every product manufactured for MicroNutra Health™ is done so in an FDA approved facility under "Good Manufacturing Practices" guidelines. These guidelines assure that every ounce of product sold by MicroNutra Health™ is of the highest quality and purest form. We won't trust your pet's health to anything less, and neither should you!

The only thing left is for you to decide to take PERSONAL RESPONSIBILITY for your pet's health because no one else can. The power of choice is yours, and the right choice is Defendex™
I hope I've presented the information above clearly enough that you too now feel comfortable in making the educated decision for good health. The only thing left to do, is present you with our 100% risk-free money back guarantee.
---
MicroNutra Health™ Iron Clad Guarantee

---
I know that Defendex™ works. I see it every day in customer re-orders and testimonials. I am so confident that Defendex™ will work for you too that I am offering you the best guarantee in the industry!
I guarantee that you'll be absolutely thrilled

or we'll reverse your payment like it never happened...

FOR A FULL 90 DAYS!
(Literally right up to the 90th day, period!)
It's Our Promise that Defendex™ is . . .

A non-toxic lice shampoo treatment that removes fleas, lice, nits, and ticks on contact.
An all-natural enzymatic formula that is pH balanced, hypoallergenic and biodegradable.
Pesticide-free, environmentally friendly.
The quickest, safest and most reliable way to cure parasite infestation and care for your pets!
Your Pet's Health is Priceless
A treatment with Defendex™ cost less than a chew toy at the single bottle price. Most of our customers opt to save even more money by taking advantage of our multi-bottle price discount, which allows a significant savings of up to 50%.
Either way, its GUARANTEED!
Compared to everything you stand to lose if you don't make a change right now, Defendex™ is just a drop in the bucket. What else can you do for that price that will so greatly affect the quality of your pet's life and the family that loves your pet?


Frequently Asked Questions!
Q: How soon after using Defendex™ can I expect to see results?
A: Customers who have used Defendex™ on their pets have experienced a noticeable difference in their pet's coat after the first application
Buy 2


Get

1 FREE!
Most Popular Option
Buy 3



Get


2 FREE!
Best Value Option
Buy 5





Get





5 FREE!
Family Pack