Reverse and Heal Your
Pet's Skin Damage
in 30 Days or less
. . .Or it's FREE!


Discover The Vet- Approved Formula Guaranteed To Safely Heal Your Pet's Sores, Cuts, Rashes, Eczema, Burns, and Infections!
The Truth Is In The Numbers: 100% of Dermaxol™ Customers Report Positive Results, Over 90% Within The First 48 Hours And The Fact That Dermaxol™ Is The NEW Golden Standard Used By Many Animal Trainers Is PROOF POSITIVE Dermaxol™ Works!

Dear Fellow Pet Lover,

y name is Jennifer Morrissey, and I am a Veterinarian Technician here at MicroNutra Health™. I already know why you are here, because you cherish your pet. For years I had struggled with my own personal battles with my pet's health. I did everything the 'experts' wanted me to do but sadly, he was not getting better. It just wasn't working.
That's when I decided to take personal responsibility for my pet's health. No one cares about your pet's health more than you. Follow me here and I will share with you some important facts that can change your furry friend's health for the better for the rest of their life!
Unfortunately 20-25% of domesticated animals suffer with some type of skin condition. Sores, rashes, eczema, dry/itchy skin or cuts can greatly reduce your pet's happiness and well being. If left untreated, these symptoms can progress into serious bacterial infections that could be detrimental to your pet!
Dogs and cats suffer from many problems which can affect their skin. It's important to understand that skin is an organ, just like the liver or kidneys. It functions as a barrier to protect the body from infection and external toxins. And just like humans, good health and proper function of the skin is dependent on the other organs that make up your pet's body.
You may not know it, but the antibiotics normally prescribed to treat various skin conditions in animals may not work. They also prohibit your pet's immune system from doing its job, which over time, dramatically weaken your pet's immune system and make him susceptible to many life threatening illnesses!
The good news is, there is now a safe and clinically proven effective solution to your pet's skin condition!
The Natural Solution is Dermaxol™!

Imagine yourself free from worrying about the horrible effects of your pet's skin condition. Imagine how you would feel if you didn't have to worry about it ever again or have to worry about all the negative side effects of any pharmaceutical drugs.
Dermaxol™ has been proven to be 99% effective to heal wounds, sores, cuts, eczema, dry/itchy skin, rashes, and all other skin ailments.
The all-natural ingredients in Dermaxol™ have been proven to be 99% effective to reverse skin ailments in pets. This comes with an iron-clad guarantee! By simply using Dermaxol™ as indicated, your pet's skin condition will be gone once and for all!
You have nothing to lose but everything to gain. You are the only one who can provide the much needed relief your pet needs!
Dermaxol™ consists of all-natural ingredients that are essential in making it safe and effective. It contains no chemically generated compounds, fillers, or artificial additives and unlike pharmaceutical drugs, does not require a prescription and has zero negative side effects.
Dermaxol™ is another remarkable product from the MicroNutra Health™ scientific research team, who continue to provide quality veterinarian health solutions in the world, for over 30 years now!
Don't just take my word for it. We have scientific proof that Dermaxol™ really does work.
Proof Dermaxol™ Works!
You know there's always one in every crowd that says, Oh yeah, well if it's so good then PROVE IT! Well, for all the doubters, guess what? That's just what we've done! We took the time to scientifically query past customers of Dermaxol™ about their results, and this is what we found to be true:
94.6% said their pets showed positive results when given Dermaxol™ as directed.
91.7% said their pet's skin ailments diminished significantly.
We have even taken it one step further with clinical studies on our product ingredients. Clinical studies conducted in controlled environments have proven the efficiency of our product in the reduction and elimination of animal skin conditions.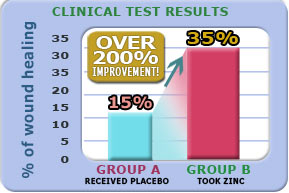 The effects of Zinc on wound healing were compared with ointments that either contained no active ingredients or zinc. All formulations enhanced the epidermal proliferation after mechanical irritation of the tail skin by 35% compared to the placebo group which only showed a 15% success rate. The administering of zinc was found to be superior to the vehicle control and formulations containing other active ingredients. This mineral was also found to be most efficient in accelerating wound healing being retarded by repeated dexamethasone treatment.
Dermaxol™ is directed for all types of pet and animal skin conditions. Eczema, allergies, wounds/cuts, rashes, dry/itchy skin, or everyday grooming for a glowing coat.
You can clearly understand these impressive results once you've learned how Dermaxol™ will reverse your pet's condition. Read on to learn more.
How Dermaxol™ Works!
Skin ailments in animals are caused by a variety of internal and external factors. Dermaxol™ is the ONLY organic mineral complex that can effectively eliminate skin conditions quickly, completely, and safely! Once and for all! If You're Treating Just One of the Causes of your pet's skin condition, You're Only Half Way There!
Like a military brigade, Dermaxol™ is the ONLY SOLUTION that attacks skin ailments from the inside out and attacks the ROOT CAUSE from every direction.
In Just One Potent Formula, Dermaxol™ . . .

Enhances Skin Cell regeneration
Dermaxol™ increases the availability and ease of absorption of nutrients.Ultimately, this has a positive effect on the regeneration of skin tissue.

Eliminates Toxins From The Body
Dermaxol™ promotes cell detoxification. Pets, even indoor animals are vulnerable and exposed to pesticides and fertilizers. The properties in Dermaxol™ adhere to the pollutants, to catalyze their breakdown. This allows the body to completely eliminate all toxins. The detoxified cells around the afflicted area will repair the affected cells.

Promotes Cellular Hydration
Dermaxol™ augments hydration on the cellular level. Research has shown that dehydration is directly linked to skin conditions. Cellular hydration is important for this reason. In this case, the most imperative reason for your pet.
72% of our customers come from word of mouth referrals or refill orders. Here are some of their life-changing testimonials.

What Our Customers Are Saying . . .
You too can expect similar results.

Submitted by:
Melissa Riggs
From:
Memphis, Tennessee
On:
September 19, 2006
I'm normally not a person who orders stuff off of web sites. Quite frankly, the few things I have ordered did not do what they said they did. But I decided to try your Dermaxol product because my dog was suffering so much. I had done everything I knew to do changing his food, vets, medicine, shampoos, etc..... and they would help for a short while but then I was right back where I started.
I have a 1 year old flat haired retriever named Max. He would scratch and scratch and bite on himself until he had sores and people thought he had the mange. This is the sweetest dog I have ever had in my life and I felt so sorry for him I wanted to cry. I don't want to sound like a commercial but if this can help other dogs who have this problem then I want to let people know that after using Dermaxol for about 2 weeks, Max's hair started growing back and his sores healed. I'm sure he feels a whole lot better. He still scratches some but not as much as he did, and I'm hoping with more time that will end too. Thank you for selling a product that really does what it says it does.

Submitted by:
Sela Brosnan
From:
Battle Creek, Michigan
On:
August 9, 2006
I love living in Michigan, but the winter weather proves to be too demanding on my toy Poodle, Candy. Her skin becomes so dry and itchy that she scratches until she draws blood. I had enough watching her writhe in pain. When I mentioned my plight to a friend, she recommended Dermaxol. Oh, my goodness! What a difference in Candy's disposition! She's happy and friendly again! Candy's coat is so soft again and there aren't anymore blood clots. Thank you, Dermaxol!

Submitted by:
Lucie Figueroa
From:
Greenville, Texas
On:
January 25, 2007
I knew something was up when my pot-belly pig, Stella, began limping and rubbing her hindquarters with her snout last Saturday. Sunday she was fine but Monday morning when I went to let her out I noticed a large welt, like a huge bug bite, had formed on her right lower hindquarter. I brought her to the vet that afternoon. The vet determined that Stella had been bitten by a brown recluse spider. He had seen the problem before. He immediately started Stella on a strong antibiotic and corticosteroids. Well, the next day Stella's bite was worse. The center had opened up and started ulcerating.
I was chatting with my supervisor from work and he told me to try Dermaxol. It had worked wonders on his dog's irritated belly skin. I stopped by his house after work and picked up the bottle. Because the bite looked so bad, I put the a few drops of Dermaxol on in every hour or so. By the next morning, the bite had dried out and scabbed over. I took Stella to the vet that afternoon for a re-check and he said it was healing up!
I am so thankful. These bites can cause the flesh to actually die and have to be surgically removed. I figure the Dermaxol saved me hundreds in vet bills.
With a great product like Dermaxol™ the news travels fast...
As seen on these great sites.



Dermaxol™'s Organic Mineral Complex
More Proof is in the Ingredients
You've heard us say the product works. You've read the testimonials from satisfied customers. You've even seen the results of our internal polling and the results of an independent clinical study. If you're still not 100% convinced that Dermaxol™ can help your pet's coat and skin ailment, then this section is for you.
Below is a short explanation of some key ingredients in Dermaxol™ and it's proven benefit (often over centuries of use) in safely repairing coat and epidermal damage and irritation thereby promoting good health.
| | |
| --- | --- |
| | Zinc, an essential mineral, is more effective than antibiotics for wound healing, inflammation control, tissue regeneration and healthy skin in general. |
| | Sulfur, an important mineral component of vitamin B1 and of several essential amino acids, that controls bacteria production. |
| | Silica, taking part in the synthesis of elastin and collagen, Silica regenerates skin and the vascular walls. |
Ionic Elements: Potassium, Silica, Silver, Sodium, Sulfur, and Titanium
Trace Elements: Antimony, Barium, Beryllium, Bismuth, Bromine, Cadmium, Cerium, Cesium, Chloride, Chromium, and Cobalt
There is no arguing the effectiveness of each of these individual ingredients. The secret of Dermaxol™ success comes from the proprietary blending at the molecular level of all these ingredients to attack the root cause of skin and coat conditions from every direction.
Folks, I can't stress this part enough.
Our scientists have discovered at the molecular level how to maximize potency and absorption utilizing our patent-pending 12 step pharmaceutical-grade blending and extraction process. This process is called Hydro-Molecular Technology™. This is what makes our products superior. Don't trust your pet's health to anything less.
FDA Approved Manufacturing
Every product manufactured for MicroNutra Health™ is done so in an FDA approved facility under "Good Manufacturing Practices" guidelines. These guidelines assure that every ounce of product sold by MicroNutra Health™ is of the highest quality and purest form. We won't trust your pet's health to anything less, and neither should you!

I've shown you how the product works, given you positive testimonials from happy dermaxol™ customers, shown you the results from independent clinical tests, and broken down some of the essential ingredients to help you better understand how they work individually.
The only thing left is for you to decide to take PERSONAL RESPONSIBILITY for your pet's health because no one else can. 'Health is a Choice' that you must make for your pet.
I hope I've presented the information above clearly enough that you too now feel comfortable in making the educated decision for good health. The only thing left to do, is present you with our 100% risk-free money back guarantee.
---
MicroNutra Health™ Iron Clad Guarantee

---
I know that Dermaxol™ works. I see it every day in customer re-orders and testimonials. I am so confident that Dermaxol™ will work for you too that I am offering you the best guarantee in the industry!
I guarantee that you'll be absolutely thrilled
or we'll reverse your payment like it never happened . . .
FOR A FULL 90 DAYS!
(Literally right up to the 90th day, period!)
It's Our Promise that Dermaxol™ will . . .
Heal your pets skin conditions
Act as a preventative against future ailments
Nourish and condition your pet's coat
Have ZERO negative side effects
Your Pet's Health is Priceless
A 30-day supply of Dermaxol™ cost less than $1.25 per day at the single bottle price. Most of our customers opt to save even more money by taking advantage of our multi-bottle price discount, which allows a significant savings of up to 50%
Either way, its GUARANTEED!
Compared to everything you stand to lose if you don't make a change right now, $1.25 is just a drop in the bucket. What else can you do for $1.25 that will so greatly affect the quality of your pet's life and the family that loves your pet?
You've already taken the first step upon the natural path to complete wellness for your pet.
Frequently Asked Questions
Q: How soon after taking Dermaxol™ can I expect to see results?
A: Customers who have started their pets on Dermaxol™, have experienced a noticeable difference in their pet's activity within 1 to 2 weeks and some as quickly as 2 days.